Blaenau Gwent cabinet member Brian Scully resigns after ombudsman referral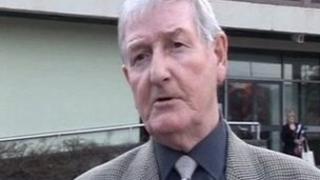 A senior Blaenau Gwent councillor has resigned as a cabinet member after being referred to the Public Services Ombudsman for Wales.
Brian Scully, responsible for economic strategy and development, was subject of a complaint by the council's leader.
The Labour councillor has also been suspended by his party pending the inquiry.
He said he was not commenting as it was sub judice and he had to "follow due process".
Mr Scully will learn in about four weeks if the complaint is to be investigated by the ombudsman, Peter Tyndall.
Blaenau Gwent council confirmed Mr Scully had resigned as cabinet member but refused to comment further.
It follows a complaint by council leader Hedley McCarthy on 30 September.
Concerns have been raised previously by the Wales Audit Office about the local authority's governance and management.