ECO Green Deal Solutions in Cardiff shuts after 'free boilers' promise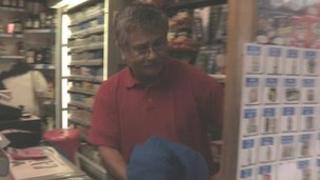 A company which promised customers free boilers but failed to deliver them has shut, leaving customers £249 out of pocket.
Eco Green Deal Solution Ltd (EGDS) in Cardiff, made the offer under a UK government scheme for people on benefits but charged for its services.
The Affordable Warmth scheme is free if customers call an official helpline.
EGDS was run by Kris Patel, from Pontypool, Torfaen, who said he tried to keep customers informed.
The company has vacated its offices at Caspian Point in Cardiff Bay.
BBC Wales' consumer watchdog programme X-Ray found some customers were not eligible for the scheme but still charged up to £249 for arrangement and assessment fees.
None of the customers who spoke to the programme received a boiler.
Pensioner Noreen Riley, from Brackla near Bridgend, who was not eligible for the scheme because she did not receive benefits, said: "He told me they'd had a grant from the government and there was X-amount of money to be spent and this was part of it."
Mrs Riley said she was sold the scheme personally by Mr Patel.
"I thought he was really a nice chap... but I don't think so now. I think I have been ripped off big time."
Marenda Morgan, from Maesteg and who was also not eligible for the free services, said she waited months just to have an assessment.
"I paid the man £249 and he said an assessor will come in a fortnight and after that it will take about six weeks and everything will be done," she said.
But four months later, Ms Morgan has only received an assessment which was not necessary for help under the scheme.
"They haven't got in touch with me," she said.
"I can't get through to any of the numbers I have for them."
X-Ray attempted to contact ECO Green Deal Solutions but its phone lines were dead and receptionists at its former offices at Caspian Point have said the company has moved.
The company remains registered as an active company and is not officially insolvent.
Another company, operating from the same offices, called Diversity Network Ltd has provided refunds to two customers, including Mrs Riley, which it describe as a "gesture of goodwill".
The company says it is completely independent of Eco Green Deal Solution Ltd.
Mr Patel, who runs Reliance General Stores in Sebastopol, Pontypool, refused to answer questions about the way his company operated but said he did try to keep customers informed.
People affected by the scheme have been urged to contact Cardiff trading standards.
X-Ray is on BBC One Wales at 19:30 BST on Monday, 7 October.