Thea Davies in 415 mile challenge for Stephen Healey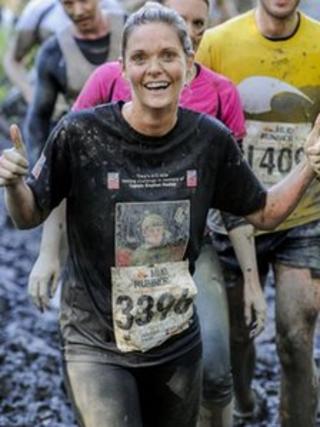 When Thea Davies finishes the Chester marathon on Sunday it will not be the end of a race so much as a labour of love.
It is her 10th marathon to raise funds in memory of her partner, Stephen Healey from Cardiff.
Capt Healey was the 415th UK serviceman to die in Afghanistan, killed by a roadside bomb in Helmand in 2012.
Ms Davies, from Pembrokeshire, vowed to run 415 miles, a goal she will achieve.
Capt Healey, a former Swansea City apprentice, was commanding his platoon in the 1st Battalion, The Royal Welsh (Royal Welch Fusiliers). from a lead vehicle when it ran over and detonated a the bomb in May 2012.
"For the first couple of months after Steve died I didn't know what to do. I just moped around," said Ms Davies.
Blindfolded sponsored walk
"Eventually the padre who repatriated Steve - who co-incidentally is also Steve - took me to watch the Olympics, completely reluctantly at the time.
"I already knew I wanted to do some sort of fund-raising for Steve's favourite charity,
"And I knew it had to have a symbolic significance. But it wasn't until I watched the Brownlees winning gold and bronze in the triathlon that the idea of running 415 miles came to me."
Capt Healey raised money for Blind Veterans UK because it supported soldiers who had lost their sight through explosions in Afghanistan.
Before his last tour he organised a blindfolded sponsored walk to its rehabilitation and training centre in Llandudno, Conwy.
Ms Davies' year of running has seen her raise about £14,000 for the charity.
Chief executive Robert Leader said her support had been inspirational.
"At a time of enormous personal tragedy for her she chose to take up Stephen's mantle and continue the amazing work that he had done to support ex-servicemen and women, blinded both in action and later life.
"We owe both her and Stephen a huge debt of gratitude and what they have done for our people will never be forgotten".
Her feat has seen her compete in 20 races - 10Ks, half and full-length marathons, triathlons, and even a half-iron man event.
'Very emotional'
Completing the challenge in Chester will also be highly significant.
"I hadn't planned it all the way along that the challenge would finish in Chester, but I'm extremely glad that it's worked out that way.
"As well as Steve's regiment being based here in the Dale Barracks, two years ago Chester was the first marathon Steve dragged me around, just over six months before he died."
With the end of this challenge, she is already planning her next project.
"It suddenly struck me a few weeks ago that it's nearly all over. That panicked me a bit - it certainly made me very emotional because the running has been my way of coping with it all I suppose."
"I'm so grateful to everyone who's supported me throughout. Not just my family, but also Blind Veterans UK, and particularly the thousands of ordinary people who've donated and given me such a sense of purpose."
"This was for Steve, but the next challenge is for myself. I'm off to New Zealand next year to take part in an ultra iron man event," she said.