Vale of Glamorgan: Development plans for 10,000 homes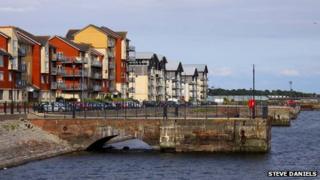 Around 10,000 homes could be built in the Vale of Glamorgan by 2026, according to its new draft development plan.
Key sites identified in the plans include 1,700 homes at the Barry docks waterfront and 1,300 houses for St Athan.
Proposals also include a permanent Gypsy and travellers site at Sully.
The plans will now be put out to public consultation.
The latest Local Development Plan 2011-2026 follows a decision to scrap work on an earlier plan back in January.
The new LDP covers all aspects of planning at the council, from housing and road networks, through to school provision and retail facilities.
"Wherever possible the plan's emphasis is on re-using previously developed land and minimising the need to develop on green fields," said Lis Burnett, who is responsible for regeneration and planning on the Labour-led council cabinet.
"Nowhere is this more apparent than in Barry where the emphasis is very much on the continued regeneration of the waterfront.
"In addition, we have ensured that sufficient emphasis is being placed on providing for an appropriate level of growth in other communities throughout the Vale thereby ensuring their long term sustainability and vitality."
Other development highlights included in the plan are:
390 properties on land to the north and west of Darren Close in Cowbridge, including land for a new Welsh medium school and a link road connecting the A48 and Llantwit Major Road.
235 homes at upper Cosmeston Farm, Lavernock, including land for a new school.
300 homes at land next to St Cyres School, Dinas Powys.
650 properties at Rhoose, north of the rail line, including land set aside for a new primary school.
120 homes east of Bonvilston, including outdoor sport and road improvements and securing land for a new hotel at Cottrell Park.
One area of local controversy is the proposals for a fixed Gypsy and traveller site at Sully.
It would accommodate 18 caravans at a Hayes Road, where an unofficial site already exists on former council land.
Local residents there have already vowed to campaign against any permanent site.
But it is the level of overall housing across the Vale of Glamorgan that has drawn the most criticism.
"This refreshed LDP still means that 10,000 houses will be built in the Vale, despite a population increase of only 152 in what was supposed to be the plan's first year," said Plaid Cymru councillor for the Buttrills ward in Barry, Ian Johnson.
"They will just be spread across a wider number of towns and villages than originally planned.
"Housing policy must meet local need, rather than drive the market, and that will be the key question during the consultation period."
The development plan will now be considered by the council during October, as well as a six-week statutory consultation.