Cardiff 'best city' in UK for young adults says poll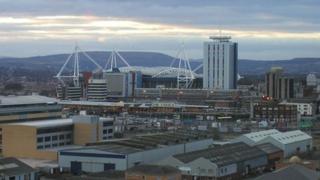 Cardiff is the best UK city for young adults because of its low cost of living, good job opportunities and decent wages, a new poll suggests.
The Welsh capital was placed above London, Edinburgh and Belfast after researchers spoke to more than 2,000 18 to 30 year olds from across the UK.
Seven in 10 living in Cardiff said they loved their job and took home an average annual wage of £21,585.
The poll also found 70% were happy with their work-life balance.
London offered the highest average wages but it scored poorly on cost of living, rental rates and levels of crime.
The UK's capital was ranked only 15th on a table of cities offering the best quality of life for 18 to 30 year olds.
Sheffield and Wakefield shared last place on the table because of low average wages and young adults in the cities saying they were unhappy with their work-life balance.
The poll by investment and insurance company Legal & General found Edinburgh, which came in fifth place overall, was rated as the UK's culture and entertainment capital.
Dr Esmee Hanna, an expert in demographics who was commissioned to write the report by Legal & General's insurance arm, said: "We asked 18 to 30s directly what they feel has the most significant impact on their quality of life.
"Job satisfaction and cost of living proved to be the factors they feel are most crucial to their quality of life, with work-life balance also proving important.
"Cardiff tops the ranking of overall quality of life for 18-30 year olds and the city appears to have a lot to offer young adults, such as good job opportunities, decent wages and the ability to put money aside each month - all factors that 18 to 30-year-olds deem important to their lifestyle."