South Wales is UK rat and pest call-out hotspot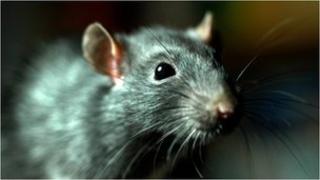 South Wales is a UK hotspot for rats and other pest call-outs, a new study has found.
The British Pest Control Association (BPCA) survey found Rhondda Cynon Taf (RCT) came eighth for all pest control calls in the UK.
For rat problems, eight of the top 12 call-out rates were in south Wales.
The BPCA said the high figures were good news as they showed people trusted their councils to solve the issue.
Last year, Blaenau Gwent came second in the list of top 12 rat call-out areas in the UK, followed by Bridgend, Merthyr, Torfaen, Rhondda Cynon Taf (RCT), Swansea, Neath Port Talbot and Caerphilly.
Figures also showed more treatments were carried out per person in Wales than in any other part of the UK.
The Corporation of the City of London took the top spot per head of population.
'Good job'
RCT, and some other Welsh councils, does not charge for call-outs to mouse and rat problems, which Laurence Barnard of the BPCA said was a factor in the high rate.
"It's because they offer a good service. It's either free or subsidised in a lot of cases and people trust the council to do a good job," he said.
"The councils are doing a good job and not letting people live with the problem.
"We would definitely say it's good that they are dealing with pest control.
"It would be good if more took in pest control or stopped charging."
RCT council has been asked to comment.
Birmingham City Council came top of the call-out table for rats, with 25.22 requests to deal with problems per 1,000 residents, just ahead of Blaenau Gwent and Bridgend.
The BPCA said its data showed for the second year running that rats were heavily controlled in Wales, with councils dealing with over three times more rat call-outs than Scotland and over 11 more than Northern Ireland.
BPCA's chief executive Simon Forrester said he had concerns that on a national scale, pest control budgets were being cut.
His comments follow fears earlier this year that there could be an explosion in the rat population in Wales if more councils charged to remove them.
In 2012, six councils in Wales charged for the service compared with just one seven years previously.
Carmarthenshire stopped offering pest control services entirely in 2011 to save £82,000.