IPCC satisfied over Lynette White police corruption inquiry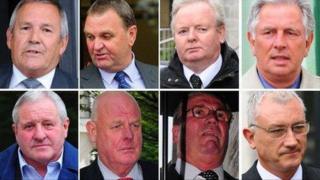 The Independent Police Complaints Commission (IPCC) says it is satisfied with South Wales Police's investigation of police corruption claims over the Lynette White murder case.
She was stabbed more than 50 times in 1988 in the Cardiff docklands flat where she worked as a prostitute.
The wrongful conviction of three men later led to a failed 2011 police corruption case at Swansea Crown Court.
Last week the Home Office said there would be no public inquiry.
Miss White, 20, was murdered on St Valentine's Day 1988 at the flat in Butetown where she took clients.
Stephen Miller, Tony Paris and the late Yusef Abdullahi - who became known as the Cardiff Three - were wrongly convicted of her murder and jailed for life in 1990.
Their convictions were quashed in 1992 and they were freed.
More than a decade later, the real murderer was identified using DNA technology. Jeffrey Gafoor confessed to stabbing her during a row and he was jailed.
An investigation into alleged police corruption at the South Wales force was launched as a result of the wrongful conviction of the Cardiff Three.
It became Britain's biggest police corruption case, costing an estimated £30m.
But the prosecution of eight former police officers and two others was halted in December 2011 when Swansea Crown Court was told certain documents had been destroyed by the police. The missing papers were later found.
Because the case pre-dated the creation of the IPCC, commissioner Tom Davies said he did not have the powers to conduct an independent investigation and so had to appoint a police force to do it instead.
He decided it was best for the South Wales force to review its own handling of the allegations.
'Groundbreaking investigation'
Mr Davies said: "It is 25 years since Lynette was brutally murdered and I recognise that her family and friends have had to contend with her death and the many twists and turns of this case.
"In the end I decided that South Wales Police had to actively engage with the public in Wales to try and restore its reputation and I decided the most effective way to do this would be for the force itself to carry out the investigation.
"I believe that the subsequent investigation I supervised has met that test.
He added: "This was a groundbreaking investigation and many lessons have been learnt from this to guide future historical crime and serious misconduct investigations and improve police practice in future."
South Wales Chief Constable Peter Vaughan welcomed the IPCC's comments.
He said: "It was a courageous decision by my predecessors to pursue this robust investigation into a very difficult chapter in the history of the force. Today has demonstrated that it was also the right decision.
"That decision, to take on the investigation rather than allowing another force to lead, was part of our continued commitment to deal with a difficult legacy and the associated allegations of police wrongdoing.
'Undetected crimes'
"The IPCC has today endorsed that investigation as thorough and said it was carried it out with integrity and diligence.
Mr Vaughan added that the force had "transformed the way we deal with historic cases and successfully reinvestigated a number of other undetected crimes", including the conviction of Gafoor for Miss White's murder.
On Friday it was confirmed that Home Secretary Theresa May would not launch a public inquiry, a decision that lawyers representing the Cardiff Three said they would challenge.
Meanwhile, Devon and Cornwall Police said it was in the "final phase" of its investigation into complaints against the south Wales force made by the defendants in the collapsed police corruption trial.