Slavery inquiry: Body search at Cariad Farm, Peterstone continues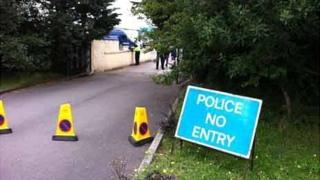 Officers are continuing to search for a body as part of an investigation into alleged slavery.
Gwent Police said the search at Cariad Farm, in Peterstone, near Marshfield, on the outskirts of Newport, which is focused on a compost heap, is expected to end in the next two days.
A Polish man was found living in poor conditions after a raid a week ago.
A father and his two sons have been remanded in custody charged with slavery offences.
The raid was carried out as part of Operation Imperial.
Another man aged 60, also British, was found during a raid at a former plant nursery in nearby St Brides last Tuesday as part of the investigation.
Three men arrested in connection with that raid have all been released on police bail.
Last Friday, Daniel Doran, 66, Thomas Doran, 36, David Daniel Doran, 42, appeared before Cwmbran magistrates on Thursday.
All three were charged with false imprisonment, conspiracy to hold a person in servitude and conspiracy to force a person to work.
Daniel Doran, known as "Big Dan", and David Dan Doran, known as "Young Dan", are both of Cariad Farm, Peterstone.
Thomas Doran, known as Tom, is of Shire Newton Caravan Site, Coast Road, Cardiff. He is also charged with kidnapping by fraud.
A 42-year-old woman has been released on police bail.
On Monday, Det Supt Paul Griffiths, from Gwent Police, said: "I'm grateful to the public for their continued support of this investigation. Since last week we have received a number of calls which have been of assistance and I continue to appeal to anyone who may have any information to contact us."
Anyone with information should call Gwent Police on 101 or via Crimestoppers anonymously on 0800 555 111.