Diseased Cwmcarn Forest Drive larch trees to be felled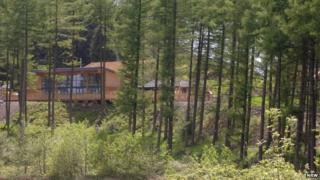 A large number of larch trees in a popular south Wales forest are to be chopped down in the coming years after being struck by a fatal disease.
Four out of five trees on Cwmcarn Forest Drive are larch, many of which have been hit by the ramorum virus.
Natural Resources Wales (NRW) said an aerial survey in May revealed widespread infection in the forest.
It will plough £2m into fighting the disease at the seven-mile (11km) scenic route and throughout Wales.
The site will remain open.
Visitors to Cwmcarn Forest Drive will be asked to help prevent spreading the disease by removing mud, plant material and leaves from clothing, boots, dogs and car tyres.
The infection has been caused by the fungus-like virus Phytophthora ramorum, which is also known as sudden oak death.
It is not harmful to humans or animals.
Sally Tansey of NRW said: "We will be working closely with Caerphilly County Borough Council, which runs the visitor centre, to minimise the economic and other impacts on the area and will keep visitors and local communities informed of how we aim to proceed.
"Inevitably, this essential work will require areas of the forest to be temporarily closed for safety reasons while forest operations take place, but we'll do all we can to ensure that felling proceeds with minimal disruption to the footpaths and mountain bike trails."
Earlier this month it was revealed that an area of Ceredigion popular with mountain bikers was being closed for three months while larch trees infected with the same disease were felled.
Some walking trails will be kept open.
Work to remove the trees around a lake at Bwlch Nant-yr-Arian, near Aberystwyth, will begin in October.