£1bn M4 relief road plan for Newport out to consultation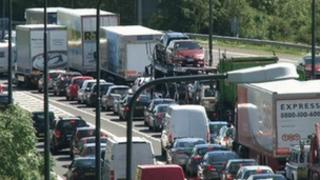 Plans for a £1bn M4 relief road aimed at cutting traffic congestion around Newport have gone out to a public consultation.
It could lead to a new stretch of motorway being built south of Newport, between Magor and Castleton.
But there is controversy about how it will be funded, with businesses opposed to Severn Crossing tolls being used as a future "cash cow".
Ministers said they were committed to tackling congestion.
Now a 12-week consultation period is starting, including public exhibitions from next month.
Transport Minister Edwina Hart said congestion on the M4 around the city was commonplace, particularly during rush hour.
Mrs Hart said: "Traffic congestion and unreliable journey times, particularly during rush hour, are common occurrences on the M4 around Newport.
"The Welsh government is committed to addressing capacity and resilience problems on this key artery widely recognised as essential to support the Welsh economy."
She said the latest draft plan was building on work already done when consultation took place on earlier M4 improvements.
The main element of the new plan is for a section of three-lane motorway between junction 23 at Magor and junction 29 at Castleton.
This would include reclassifying the existing M4 between Magor and Castleton and creating a new single carriageway link between the M48 and B4245.
The draft plan also has two "reasonable alternative" routes and another option which considers the consequences of doing nothing above what is already planned.
Earlier this month business leaders opposed any plans to use tolls from the two Severn bridges to finance the relief road.
Toll income
The Federation of Small Businesses said using tolls as a "cash cow" for the scheme was unacceptable.
It followed remarks by a Welsh government adviser who said borrowing for the project could be funded from toll income.
But the Welsh government contradicted the adviser's remarks and said it would seek to reduce toll levels if control of the bridges was devolved.
However, it said it had not yet reached agreement to borrow the estimated £1bn needed to finance the relief road.
Plans to ease congestion on the M4 in south Wales were unveiled by the Welsh government in 2004.
Five years later the then Labour-Plaid coalition in Cardiff Bay shelved the idea when the estimated cost rose to £1bn.
Gwent Wildlife Trust has been campaigning against proposals for the relief road which it claims could destroy habitats and "create a barrier" preventing the movement of wildlife on the Gwent Levels.
The trust said the area was a nationally important location for wildlife.
The first exhibition will be held at Ebenezer Baptist Church, Magor, on 2 and 3 October and people will also be able to respond online.