Lord Williams of Oystermouth unveils Roath church mosaic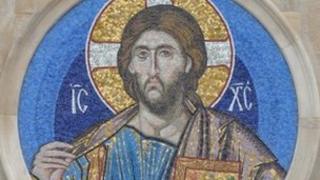 A new mosaic which completes the revamping of the entrance to a Cardiff church has been unveiled by Lord Williams of Oystermouth.
The former Archbishop of Canterbury led a service of dedication at St Martin's Church in Roath on Sunday.
Lord Williams unveiled the mosaic of Christ the Pantocrator which was designed by a Shropshire man.
A series of six large glass windows have also been installed at the church entrance.
Father Irving Hamer of St Martin's said: "We wanted something to crown the entrance to the church and bring some colour to the front of the building which this mosaic does really well.
"The whole project has completely transformed the front of the building and people's perception of it.
"The glass fronted entrance area is now a space where people can meet, hold exhibitions and socialise. From the outside it looks a very inviting place to be thanks to the large glass windows.
"To finish off the front entrance area we wanted a traditional image of Jesus that was easily recognised and that is what this mosaic offers."
The mosaic was designed and produced by Aidan Hart of Shrewsbury, Shropshire. A booklet explaining the history of the mosaic is available from the church.