M48 Severn Bridge closes for maintenance all weekend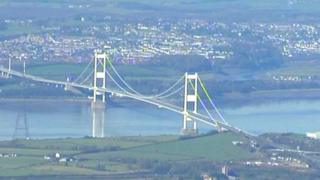 The M48 Severn Bridge will be closed over the weekend for maintenance work, the Highways Agency says.
Traffic in both directions is being diverted to the M4 Second Severn Crossing from 06:00 BST on Saturday.
The closure, until 18:00 BST on Sunday, is for work on an expansion joint which allows the structure to expand and contract as temperatures change.
The Grade 1-listed bridge carries about 17,000 vehicles per day.
Chris Pope, of the Highways Agency, said: "The Severn Bridge is a vital transport link between England and Wales, and this work will help keep it operating safely for many years to come.
"We have planned the work carefully to cause the least possible disruption to road users and will also be taking the opportunity during the closures to carry out other work such as minor surfacing repairs, maintenance work to barriers and painting posts to reduce the need for traffic management in the future.
"The work is being carried out when traffic flows are lowest but road users are advised to plan ahead and allow longer for their journeys."
The Sev­ern Bridge orig­i­nally car­ried the M4 until the Sec­ond Sev­ern Cross­ing opened in 1996. It is now part of the M48 motorway.
Unlike the Sec­ond Sev­ern Cross­ing, it has no wind shield­ing and is sub­ject to clo­sures dur­ing high winds.