Ioan Gruffudd's Welsh university film shot in England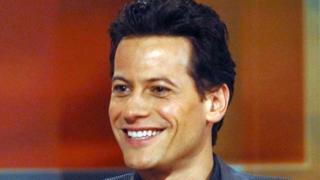 A promotional film starring Hollywood actor Ioan Gruffudd has been criticised for using a location in England to avoid the rain in Wales.
The actor is seen delivering an inspirational speech and striding across mountains offering a welcome to new University of South Wales students.
But it was filmed in Somerset as rain was forecast for the Brecon Beacons.
The University of South Wales said the 90-second student recruitment film had a "Welsh flavour".
Plaid Cymru AM Lindsay Whittle criticised the decision to make the film in England.
He said: "It seems odd the university would choose a well-known Welsh actor to front their ad campaign but made it in England.
'Very busy diary'
"It clearly trades on the university's Welsh brand and identity but is filmed across the border."
The Bristol-based advertising agency commissioned by the university did not choose the south Wales valleys for its backdrop, but the Mendip Hills instead.
A spokesperson for the university explained why the filming took place in Somerset.
"It's simply a question of meteorology rather than patriotism.
"Ioan is a Hollywood star with a very busy diary and we knew we had only a limited amount of time with him to shoot the advertisement.
"The forecast was for torrential rain in Wales on the day we had him, so we made the decision to film where we knew the weather was predicted to be better.
"The ad has a very Welsh flavour with one of Wales's top stars.
"But its message is universal, making people think about how their university choices affect the rest of their lives."
'Proud Welshman'
The spokesperson added: "We'd encourage people to watch the video and judge for themselves."
Thirty-nine-year-old Gruffudd, who is from south Wales but now lives in Los Angeles, began his career on the Welsh- language soap opera Pobol y Cwm before moving on to Hollywood blockbusters, such as 102 Dalmatians, Black Hawk Down and Fantastic Four.
Speaking about the campaign, the actor said: "As a proud Welshman I am delighted to help the University of South Wales promote attendance.
"And to come and do that in Wales - well, what could be better?"
The video was part of a YouTube playlist on the University of South Wales' website homepage.
The institution was formed when the University of Glamorgan and the University of Wales, Newport, merged.
It is now one of the largest universities in the UK and is expected to welcome more than 30,000 students later this month.