Legionella bug: Cardiff's Eastern High School will reopen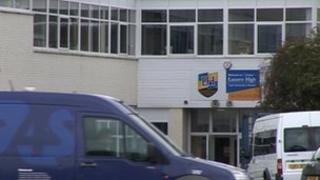 A new "super school" will reopen a week after the bug responsible for Legionnaires' disease was found at the site.
Eastern High School in Cardiff shut last Wednesday when routine tests found traces of legionella.
The new school, which combines 1,500 pupils from Rumney and Llanrumney schools, will reopen on Wednesday.
Meanwhile, Risca Comprehensive in Caerphilly county is closed on Tuesday after a water supply failure.
Eastern High had only been open for two days at the start of the autumn term before it was forced to close.
Officials made arrangements for some lessons to be held off site.
On Tuesday, a spokesperson for the school said: "Eastern High will reopen to all pupils tomorrow.
"The school was closed last week in order for essential maintenance work to be carried out following the discovery of legionella bacteria during a routine test at the school. This work is now complete and the school can now reopen.
"We apologise for the inconvenience this caused."
Pupils in years 7 and 11 were collected by bus from tennis courts at the new school and taken to Llanedeyrn High School site on Tuesday.
Work has also been posted on the school website for Years 8, 9 and 10 to follow.
Officials said the bacteria discovery was a "low risk" to health.
Public Health Wales was notified and confirmed last week that it was not investigating any cases of Legionnaires' disease.
The bacteria is commonly found in the natural environment. It only becomes a health risk when it is able to multiply in a closed environment, later being inhaled in water droplets.
The Legionnaires' infection can lead to a potentially fatal strain of pneumonia.
Meanwhile, Risca Comprehensive is closed on Tuesday after a problem with the water supply left it with no water.
The school sent children home at 11:00 BST for "health and safety reasons".