Rhoose primary school: Car crash lollipop lady Karin Williams returns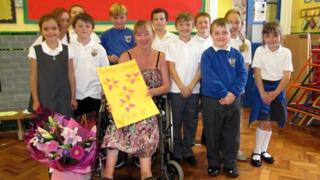 A lollipop lady who was hailed a hero when a car overturned outside a Vale of Glamorgan primary school injuring nine people has returned to see the pupils.
Karin Williams stepped in front of the car with her lollipop sign to take the full impact - protecting five children.
The 50-year-old was one of the victims taken to hospital following the incident outside Rhws primary school in Rhoose on 20 June.
She is in a wheelchair after breaking her legs, elbow, shoulder and ribs.
Ms Williams, a lollipop lady for 11 years, was cheered by the children when she returned to the school and promised to return to her lollipop duties as soon as she could walk again.
"I just broke bones and they will heal. You either sink or swim and I'm swimming as I'm not going to give up," she said.
"I can't remember much about what happened - it was all so quick. I remember having my sign in my hand, turning round and shouting and that was it.
"The next thing there were paramedics and firemen rescuing me."
The car driver Robert Bell, 61, was driving his granddaughter to school when he suffered a coughing fit and lost control of his Audi.
It careered into the crowd of children outside the school before flipping over onto its roof.
Ms Williams took the force of the crash as she stood with her patrol sign. Four girls and a boy under the age of 10 were also injured along with mothers walking them to school.
One of the girls suffered serious injuries and is still recovering at the paediatric intensive care unit of the University Hospital of Wales in Cardiff. The others have returned home.
Ms Williams spent seven weeks in hospital and is still having regular physiotherapy sessions on her injuries.
But she has been told her lollipop is waiting for her when she is ready to return to work.
"I absolutely adore my job - I couldn't imagine not working for the school," she added.
"I love the children and I've seen some of them grow up from when their mum was pregnant up until when they have gone to Year Six.
"I have a great relationship with the parents as well and it makes a difference."
Ms Williams has already been nominated for a Pride of Britain Award, and a Facebook page calling for a bravery award for her has been backed by about 5,000 people.
The school's head teacher Louise Lynne said: "The children really miss Karin and are asking how she is - they have been really concerned about her.
"We were all thrilled she had been released from hospital and were even more delighted to be able to welcome her back to school.
"All of the children know her and are very fond of her.
"Karin is a very important part of the staff and we are looking forward to her returning when she's ready."
Mr Bell has been questioned by South Wales Police but has not been charged in connection with the incident.