Pentre Primary School to seek legal advice over closure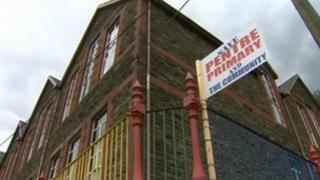 A Rhondda school earmarked for closure by its local council is seeking legal advice on overturning the decision.
Rhondda Cynon Taf council announced on Tuesday Pentre Primary would close next September with the children moved to Treorchy Primary.
Former Education Minister Leighton Andrews resigned after he supported the school's fight to stay open in defiance of his own surplus places policy.
Campaigners also plan to send objections to the Welsh government.
Pentre's former head teacher Phil Rowlands is now a school governor and chair of the Pentre Action Group.
The group is raising money to seek advice on whether it can make a legal challenge to the decision.
Mr Rowlands said the group believed the decision to close the school went against both health and safety guidelines in respect of the children's travelling to the new site, and the child poverty strategy for Wales.
He said he felt the decision had been "rushed through" before an inspection of the school took place in September.
Opponents to the closure have a month to object to the Welsh assembly, which can review the decision.
Mr Rowlands is writing to Education Minister Huw Lewis to raise his concerns.
'Needy families'
He said the route to Treorchy Primary was along an unsafe main road, and as the schools were just less than 1.5 miles apart, the children would not be eligible for free school transport.
Mr Rowlands expressed the fears of some parents over the cost of paying for public transport in bad weather, and the possible impact on working with longer, more complicated drop-off and collection arrangements.
He added: "I started a breakfast club in the school. There are a lot of very needy families there.
"To access the breakfast club at the school in Treorchy, children are going to have to get up very early and walk down in darkness in the winter along a busy and dangerous main road.
"We are talking about the safety of children."
The decision follows a consultation by RCT on closing the school, which has 73 pupils despite having room for 202.
Councils across Wales had been asked by the Welsh government to close and amalgamate schools to deal with excess capacity.