Rhys Clark died trying to rescue dog at Southerndown beach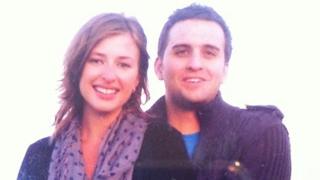 A mother has told how a "light has gone out" after her son died while trying to rescue his dog following a cliff fall.
Rhys Clark, 27, and girlfriend Ania Galanska, 25, tried to reach their dog when he fell off cliffs at Southerndown, near Bridgend.
The couple, who were living in Cardiff, fell 150ft (46m). Mr Clark died in the fall and his partner suffered multiple injuries.
His mother Janet Clark said the family would be "lost" without him.
Mr Clark and Ms Galanska - originally from Poland - were walking their dog last month when the one-year-old animal fell onto a cliff ledge.
They tried to get to him but both fell to the rocky beach below.
Mr Clark's mother, who lives near Hay-on-Wye in Powys, said her son was "always so positive about life - you knew when he would ring on the telephone and you'd have a conversation, he would never moan".
She added: "Everything was good and he had a wonderful sense of humour.
"We will be just lost. A light has gone out.
"His dad and I and his sister are so proud, so very very proud of everything he's achieved and his kindness to people."
She said nothing would ever replace her son, adding: "I think that life couldn't be any more cruel.
"But I suppose that some people could go through life for many many years, and have their sons for many many years but not have those special 27 years that we had."
She said the dog had also died in the fall.
South Wales Police are treating the incident as an accident and have appealed for information from witnesses.
Mr Clark's funeral will be held on Thursday.