Newport safe despite gun incidents, say police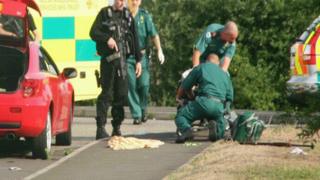 Recent gun-related incidents in Newport do not reflect the general situation in the city Gwent Police has assured people living in the area.
It follows concerns being raised following three alleged separate incidents in the last month.
One councillor said residents want to be able to live in the city without fear or anxiety.
But Gwent Police say the city is safe and the force is being proactive in tackling crime.
There have been three gun related incidents in the last month.
On Tuesday, two people were arrested suspicion of being concerned in the supply of controlled drugs following an incident in Chepstow Road in which a car crashed after being shot at from another car.
Violent disorder
Two men, aged 22 and 24, have been arrested on suspicion of attempted murder.
A week earlier, on 26 August, armed police were called after reports a weapon was involved in a number of alleged incidents between the occupants of two cars in Newport.
Five men from Cardiff and Bristol face violent disorder and drugs charges.
And on 8 August armed officers were called to Seabreeze Avenue in the city where Caroline Parry, 46, and her estranged husband Christopher, 49, were found seriously injured lying in the road.
Both were taken to hospital with gunshot wounds.
Mrs Parry later died while her husband is believed to remain in a stable condition in hospital.
'Good intelligence'
Police say none of the incidents are connected.
Councillor John Guy from the Alway ward in Newport, where the latest incident happened said: "Obviously the residents are concerned as are the local councillors and I'm sure the chief constable, the police commissioner and the superintendent at Newport have got this concern on their desk at the moment.
"Anything to do with guns is obviously going to cause great concern to the local community in all sorts of ways
"I'm sure the police have got good intelligence in all respects and it's important that they keep their finger on the pulse and really get to grips with all of this."
Mr Guy added: "All my colleagues at the city council are really fighting hard to do what we can to improve the situation in Newport.
"We need everyone to help and be able to give the residents of Newport the quality of life. They don't want the anxiety of these sort of things occurring all of the time."
'Doing everything'
Ch Insp Huw Nicholas from Gwent Police said: "I want to reassure people that those incidents are not connected in any way.
"It's not reflective of the general situation in Newport at all.
"Newport is a very safe city and continues to be a very safe city, and we are very proactive in dealing with criminals here.
"I want the public to be reassured by that."
"Newport traditionally has a very low level of gun crime and we want to keep it that way," said Mr Nicholas.
"We are doing everything we can proactively to stop this."
Gwent Police and Crime Commissioner Ian Johnston said: "The incidents are not connected. They are being dealt with.
"There are more patrols in Newport as a result to assure the people," he told Radio Wales.
"It's not something that people should be unduly worried about.
"Rest assured, Gwent Police are on top of it."