Ysgol Treganna school opens at new site after long battle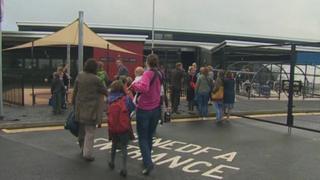 A Welsh-language school which has been the subject of a long campaign to move has finally opened at its new site.
Ysgol Treganna shared a site with the English-language Radnor Primary in Canton, Cardiff, before the council approved a new school building in 2011.
The £9.8m school in Leckwith had to delay its opening by a week as the finishing touches were carried out.
Some parents have expressed worries about parking at the new site.
Children from the former Ysgol Treganna site and its satellite school Ysgol Tan yr Eos in Grangetown will unite at the location, taking the number of pupils to 500.
Head teacher Rhys Harries said the school on Sanatorium Road will eventually hold 630 pupils and 96 nursery children.
Ahead of the school's opening Mr Harries said: "It's the end of three years' intensive planning.
"It's a momentous occasion, and not just from the point of view of the wider Welsh language education community but for me and the staff."
He said the preparations had been "as close as it possibly can come" with the staff only getting the keys to the building the Thursday before the school opened.
Parents campaigned for years to get a stand-alone site for Treganna, and the council put forward various options including closing Radnor Primary and handing the site over, and giving the English-language school Lansdowne Primary site to Treganna.
Both options were rejected following opposition by parents at those schools.