Derelict Boys' Village holiday camp in West Aberthaw up for sale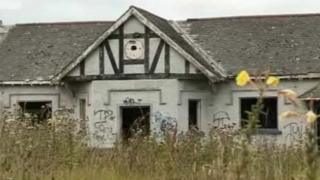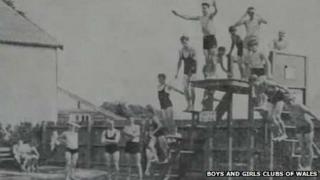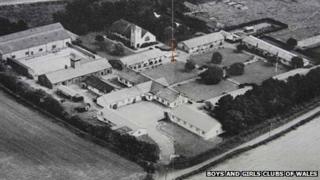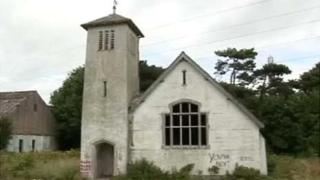 Holiday camp buildings that played host to the vacationing children of miners are to be sold after the Vale of Glamorgan site became derelict.
The Boys' Village in West Aberthaw gave youngsters mainly from the south Wales valleys the chance to enjoy the fresh air and freedom of the Welsh coast.
But after closing in the 1990s, 70 years after it opened, it became a target for vandals.
Now five of its buildings, including a former church, are up for sale.
The philanthropist grandson of the coal magnate David Davies - who constructed Barry docks - was inspired to create the retreat for miners's sons in the 1920s.
For decades, thousands of children were given the chance to escape the coalfields to enjoy a beach holiday.
The camp near St Athan had its own cricket pavilion, swimming pool, sports hall, church and even its own war memorial on a site close to the sea.
It was later used as a training centre for apprentices, a youth hostel and a military base during World War II.
But as the pits started to close down and cheap package holidays emerged, demand for the camp fell and it finally closed in the 1990s.
Since then it has fallen into a state of disrepair, with thieves stealing stained glass windows and even the clock from the camp's former canteen.
Several buildings have also been removed or cleared after becoming fire-damaged.
A private buyer, who purchased the site after the Boys' Village closed, put it up for auction in 2010 and a developer has since been given planning consent by the Vale of Glamorgan council - subject to a planning obligations agreement - to create new homes from the buildings.
The camp's former hall, caretaker's bungalow, rectory, accommodation block and church are now being sold as five individual building plots, with prices ranging from £160,000 to £240,000.
Local St Athan councillor John Thomas said that while some people in the area remember the camp in its heyday, most would be happy to see it redeveloped.
"Times have changes and there's no need for that sort of facility anymore," he said.
"It's been derelict for a number of years and there's anti-social behaviour there - it's attracting the wrong sorts of people," he said.
"I think people would very much like it to be developed and tidied up."