Private mountain bike centre opens in Merthyr Tydfil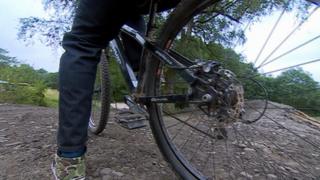 A privately run £2m mountain bike centre which it is hoped will attract 35,000 riders in its first year is opening in the south Wales valleys.
Bikepark Wales in Merthyr Tydfil aims to cater for a range of abilities from beginners to elite professionals.
Director and Welsh downhill mountain bike champion Rowan Sorrell said it must encourage riders to keep coming back.
Numbers taking part in the sport in Wales have doubled since 2005.
Some 300,000 riders used Natural Resources Wales trails in 2011.
The new centre, on the forested hillside south of Merthyr, boasts that its highest trail starts on ground nearly 500m (547 yards) high.
Mr Sorrell has been responsible for the design and building of many existing trails all over Wales.
He said: "It's making sure that it puts a grin on someone's face - that's the bottom line.
"It's got to be fun and something that people want to come back and ride again and again.
"At this centre here we've got a wide range of trails that cater for all different abilities so whether you're a professional rider or a beginner, hopefully everybody's getting that same buzz and wants to come here."
While he acknowledged that mountain biking was a risky sport, he said the aim was to balance the enjoyment with limiting the risks.
"If people ride within their abilities, it's a safe sport," he said.
"The trails are graded like ski runs so it goes from a green - which is like a beginner - nursery slope through to the blacks. One line for the professional riders has 30ft gaps."
Until now, riding along forestry trails in Wales has been free but Bikepark Wales is charging people to ride their own bikes on its 25 trails. It costs £75 for a year or £5 for a day.
Finance director Anna Walters said the company was investing in maintaining the trails.
"What we're offering here is significantly more than what is offered on other sites. The quality of what you're getting here is significantly different to other trail centres," she said.
With £2m invested, half of it public money, it needs to regularly attract large numbers of paying riders to survive.
What this centre must be hoping is that mountain biking is here to stay and not just a fashion.