Cardiff Airport buyout: Tories criticise £1m consultancy fees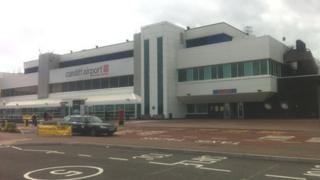 Consultancy fees of £1m for the Welsh government's £52m purchase of Cardiff Airport have been criticised by the Conservatives.
A Freedom of Information (FoI) request by the party showed £1.1m was spent on fees and VAT for the buyout.
The total costs were a "massive sum of money which could have been better invested in the NHS," the Tories said.
But the Welsh government said the fees were below the normal costs in public sector transactions.
The struggling airport was bought in March by the Welsh government, which promised it would be managed on a commercial basis.
In the month before the purchase First Minister Carwyn Jones was critical of the airport after a slump in passenger numbers from a peak of two million in 2007 to just over one million in 2012.
The Conservatives have been repeatedly critical of the Welsh government's decision to buy the airport.
The party said the Welsh assembly's finance committee has also criticised the use of contingency funds for the purchase, which meant it was not subject to assembly scrutiny.
'Hardworking families'
The Conservatives said their FoI request showed consultancy work surrounding the purchase, including valuation, totalled more than £912,00 and with VAT that figure rose to £1.1m.
Shadow transport minister Byron Davies AM said "This figure reveals that the nationalisation of Cardiff Airport by Carwyn Jones' Labour government cost hard-pressed taxpayers even more than previously thought.
"Hardworking families pay their taxes so the government can provide first class public services and create the conditions for economic growth and it should not be the role of governments to buy airports."
Mr Davies added: "This latest hike to the cost of buying Cardiff Airport emphasises just how out of touch with the people of Wales Carwyn Jones and his Labour government are."
In response, a Welsh government spokesperson said: "As with any transaction of this size we need to ensure due diligence is undertaken to ensure value for money and that the contractual agreement is robust.
"The total fees associated with this purchase were approximately 2%, which is below what is normally incurred in public sector transactions."