Paralympic athlete and wheelchair sport 'icon' Chris Hallam dies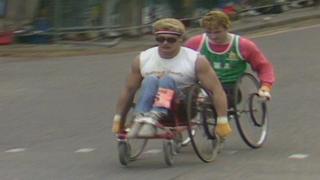 Paralympian Chris Hallam MBE, one of the pioneers of disabled sport, has died.
The athlete won medals for swimming and wheelchair racing in the 1988, 1992 and 1996 Paralympic Games.
Hallam, who was in his late 40s and lived in Pontypool, was a flamboyant character. He twice won the London Marathon, setting course records.
Baroness Tanni Grey-Thompson called him an "icon in wheelchair sport" who inspired her to compete.
The wheelchair racer, who had been paralysed below the chest in a motorcycling accident, had been an accomplished able-bodied swimmer.
Within a few years, he won the 50m breaststroke at the World Disabled Games.
'Flamboyant'
Hallam's London Marathon victories in record times came in 1985 and 1987, while he won medals in Paralympics in Seoul, Barcelona and Atlanta.
In 1986 he completed a 400 mile wheelchair ride around Wales to raise money for a centre for the disabled at Uwic (now Cardiff Metropolitan University).
He was also awarded the MBE for his contribution to disability sport.
He retired from competitive sport in 1996 and took up athletics coaching, developing a number of wheelchair racers within the Disability Sport Wales academy system.
The athlete, who had been ill for some time with cancer and had a kidney transplant over a decade ago, died on Friday.
Prime Minister David Cameron was one of many people tweeting tributes to Hallam following the news.
He said: "Very sorry to hear of the death of Chris Hallam, a true pioneer of disabled sport and an inspiration to athletes everywhere."
Baroness Grey-Thompson, Wales' greatest Paralympian, said Chris Hallam had been "hugely inspirational" to her and had "broken down all the barriers" that enabled her and others to go into wheelchair athletics.
She told the BBC News website he was also believed to be the first disabled athlete to get sponsorship.
"I remember watching him doing the London Marathon in 1985 with my parents and saying to mum and dad 'I will do the London Marathon one day'.
"He was an icon in wheelchair sport. He was edgy with this blond hair and he'd wear things like leopard print Lycra suits. He was very flamboyant and a real character - not at all bland.
"Without him we wouldn't have wheelchair racing. You have to realise that back then in the '80s, the word Paralympic hadn't been invented, nobody knew anything about disability sport, there was no coverage of it. It was as if it didn't exist."
'Ultimate hero'
The Welsh woman, who amassed 16 Paralympic medals and won the London wheelchair marathon six times in her own sporting career, added: "I wouldn't have had my career without him.
"He was really close mates with my husband and was an usher at our wedding. He was amazing. He could be quite abrasive and rude and he would always have an opinion - he would say what he thought, which would often get him into trouble.
"He didn't suffer fools gladly and a lot of us wished we could be as direct as Chris. But he really cared about the people around him. He really helped me.
"In the Paralympic movement in Britain, he was the one who broke through. But a lot of people might not know about him because it was before social media. He broke down every barrier."
Fellow Paralympian John Harris said he got to know Chris Hallam after his accident and called him the "ultimate hero" and the "toughest man he had ever met".
'True competitor'
"I remember when we did our final 600-mile push around Wales in 1997, Chris was in a lot of pain because he was undergoing dialysis. But he wouldn't give up. He was determined, that was Chris."
Mr Harris added: "He was the consummate athlete who prepared for every event down to the smallest detail. He was a larger than life character that you just wanted to be near to.
"'Shades', as he was known, was a dear friend and will be sorely missed by everyone who ever knew him. My heart goes out to his family at this sad time."
Jim Munkley, a Disability Sport Wales board member, who went as a fellow British team member to the Seoul, Barcelona and Atlanta games added: "Chris will be remembered as a true legend of Paralympic and Welsh sport. Not only was he was true competitor in every sense of the word, but he was also a great character to be around and to have known.
"Disability sport in Wales owes much to Chris and I have no doubt that we would not be where we are today without the huge contribution that he made to the development of our sport."
Minister for Culture and Sport John Griffiths said: "Chris Hallam was a pioneer for disabled sport and led the way for others like Baroness Tanni Grey-Thompson to succeed."