Oakwood, Pembrokeshire, sorry for power problems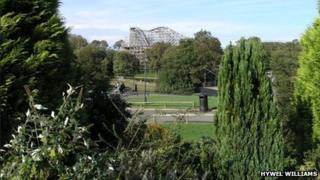 Oakwood theme park in Pembrokeshire has apologised to visitors after it was hit by a power problem for the second time in just over a week.
A number of rides were put out of action for a time on Friday, leaving some people complaining that their day out had been spoiled.
Oakwood, which attracts thousands of visitors a day, said an area of the park was affected for about an hour.
The park said its power supplier had identified and resolved the problem.
It said the park would open as normal on Saturday and for the rest of the season.
One visitor, Hayley Cullen, who was with a group of more than 70 from Swansea, claimed some ride attendants had been advising visitors to go home because of the power problem.
She said her group had paid a total of about £2,000 for the visit and they wanted refund forms signed by the park before they would leave.
But a park spokesman said Oakwood had not told attendants to advise visitors to leave.
He said: "The power was fully restored within an hour and everything is up and running now.
"My understanding is that it was a fairly localised area of the park that was affected. We are obviously apologising for any inconvenience."
The park said anyone who had encountered problems could fill in forms which would be dealt with within a guaranteed time.
Eight days ago the park's Speed rollercoaster was halted - with a number of passengers inside - at the top of its tower by a power problem.
That incident was believed to have taken up to 20 minutes to resolve in total, and the park insisted that it was entirely safe and the ride had been halted as a safety measure.
The park spokesman said power problems were behind both issues but he was not sure if they were related.