Newport council stops buying weed killer in cost-cutting measure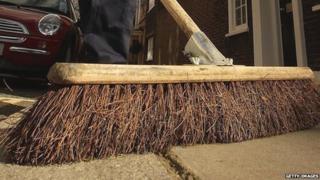 Newport council has stopped buying weed killer as part of its cost-cutting plans and is instructing street cleaners to pick weeds by hand.
The authority estimates it will save £30,000 per year while hand picking weeds was better for the environment.
A spokeswoman said weed killer had become less effective due to factors including EU rules on chemicals used.
Opposition councillors have criticised the move, made as part of a medium-term plan for balancing the council budget.
'Environmentally friendly'
The council spokeswoman added: "The weeds will now be removed by hand and it is estimated this will result in a £30,000 saving for the council as a result of not having to buy weed killer and/or equipment.
"We have therefore sought alternative methods as part of our routine maintenance and cleansing including manual removal which is more environmentally friendly.
"We will continue to monitor the highway as part of our statutory duty and will address any issues that arise."