Siteserv waste dump trial: Nigel and Phillip England cleared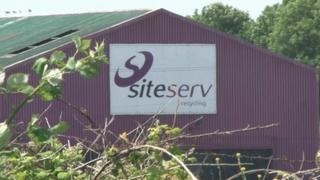 Two brothers have been cleared of illegally dumping waste on farmland in the Vale of Glamorgan.
Nigel and Phillip England argued they were allowed to fill in a 100m-wide (328 ft) hole at a Cowbridge farm to make it more manageable for crops.
They were found not guilty of 11 charges following a trial at Cardiff Crown Court.
The jury could not reach a verdict on a remaining charge against their Siteserv waste management firm.
The prosecution will have 14 days to decide whether to pursue the outstanding charge against Llandow-based Siteserv.
The brothers, Nigel, 50, and Phillip, 61, had set up Siteserv more than 16 years ago and employed about 200 people.
As part of their business, they had been licensed to use inert waste - not likely to be dangerous or react to soil - to fill in a 100m-wide natural valley on land known as 40 Acre Field.
This was owned by another of the brothers' companies, England Environmental (Northern) Ltd, on which Nigel England's home at Pwll-y-Darren Farm sits.
But the court heard claims that instead of filling it in with legal waste such as excess earth, the pair poured tonnes of illegal material into the valley.
The former Environment Agency Wales alleged the hole was filled with kerbside waste which had come, it said, from the company.
But the two men denied this and said the field was filled in with subsoil from a nearby Cowbridge flood alleviation scheme and their own quarrying operation, for which they had permission.
Phillip England had told the court that the field was filled with soil to make it more manageable so the brothers could crop it.
"You couldn't get farm machinery on it before," he said.
"Now it's got barley and corn grain growing on it."
The brothers admitted depositing 485 tonnes of waste from Siteserv on the land but said it was inert.
Following the verdict, a spokesperson from Natural Resources Wales - the body which replaced Environment Agency Wales - said it had a duty to investigate possible illegal waste activities and prosecute where it believed an offence had been committed.
"Waste crime can harm the environment, impact on local communities and undermine legitimate business so we will take action where appropriate," the spokesperson said.
Nigel England told BBC Wales the case had "nearly cost me my life" and cost more than £400,000 in legal fees since 2010.