Severn airport plan would see Cardiff and Bristol Airports close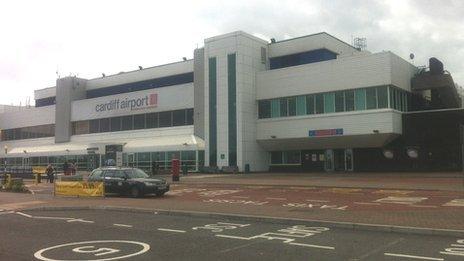 Plans to replace Cardiff and Bristol airports with a £5bn airport on the Severn Estuary have been criticised as unrealistic.
A new airport between Newport and Chepstow has been proposed as part of a review of the UK's airport capacity.
It would open in 2029 and would be able to handle 20m passengers initially.
But Bristol Airport called the plans "somewhat far-fetched" while the man brought in to run Cardiff Airport said his focus was on the immediate future.
Previous proposals for a "Severnside" airport were rejected more than a decade go by the UK government under an aviation White Paper's 30-year plan for air travel.
Bristol Airport chief executive officer Robert Sinclair said: "The Airports Commission has received many proposals for different airport schemes right across the UK.
"It is important that these are deliverable solutions not somewhat far-fetched proposals reliant on the forced closure of a successful, privately owned airport which supports thousands of jobs.
"The idea of a new Severnside airport was dismissed by the Future of Air Transport White Paper back in 2003 on the basis that it would "struggle to attract sufficient traffic to be financially viable and would not generate sufficient economic or regeneration benefits to merit support.
"Given that the long-term demand forecasts on which this decision was based have since been revised downwards, it is difficult to see how a different conclusion could be drawn today."
The previous plan, put at £2bn, was for an airport near Newport with runways on a man-made island and capable of handling up to 30m passengers a year.
The new proposals are for an airport that would be "capable of serving the market for the rest of the century".
They envisage taking 16 years to plan and build an airport with a 4,000m main runway and with road links to the M4 and rail links to the main London-Wales mainline.
It would employ 1,000 staff directly and up to another 10,000 indirectly.
With the majority of flights taking off and landing over water, the noise and air pollution for nearby residents would be minimised, they claim.
The scheme was put forward by the consultancy MSP Solutions and is based on a paper prepared for the think-tank the Institute of Welsh Affairs (IWA).
IWA chair Geraint Talfan Davies said the former Severnside plans were rejected on a "completely false premise" in that the aviation white paper was only looking at airports from a regional perspective.
The current proposals fed into the Airports Commission's wider aims and underlined how Wales and the south west of England should been seen as one when considering the future of air travel growth, he said.
He said: "However you play this, there are limitations on how far Cardiff and Bristol can develop their airports."
Cardiff Airport was bought recently for £52m by the Welsh government over concerns about falling passenger numbers and a lack of investment.
First Minister Carwyn Jones had been critical of the airport's previous owners after a slump in passenger numbers from a peak of two million in 2007 to just over one million in 2012.
The Welsh government has already installed a new senior management team and stepped in with an express bus service to improve transport links for passengers.
Mr Jones also wants a commercial operator to become involved in the airport to help run it.
Cardiff Airport chief executive Jon Horne said he was focusing on improving the existing airport rather than any potential new Severn airport.
"The long-term schemes that have been proposed will be decided on the the basis of far-reaching UK government policy," he said.
"The focus here is the now and near future and doing the best job we can for the benefit of the people of Wales.
"The one thing we can say is that, operationally, it (Cardiff Airport) is capable of doing very much more."
Related Internet Links
The BBC is not responsible for the content of external sites.