Logicalis creates 20 jobs at Nantgarw in south Wales valleys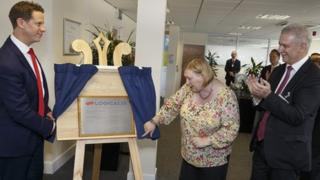 A technology firm is creating 20 jobs and an apprentice scheme at a new UK base in the south Wales valleys.
Logicalis has transferred its UK Managed Services Centre from Malaysia to Nantgarw, near Caerphilly.
The company provides round-the-clock support for high-profile businesses across the UK.
The centre, backed by a £438,000 Welsh government grant, has been officially opened by economy minister Edwina Hart.
"Bringing a technology services operation from Malaysia to Wales is a great testament to the opportunity and skill-sets Wales can offer global enterprises today and sends out a strong message to the industry," she said.
"It is also a reflection of the success of their Welsh operation and the high calibre of staff they have been able to recruit locally."
Logicalis first opened an office in Wales in 2007, when it employed just 10 people. It now provides skilled jobs for 80 people across the region.
"Since opening in Wales, Logicalis has continued to expand and invest, creating a significant number of high skilled technical jobs and I am pleased the Welsh Government was able to support this latest investment," the minister added.
'Excited'
Logicalis employs nearly 3,500 worldwide, with an annual revenue of £924m, and is part of the Datatec group, listed on the Johannesburg and London AIM stock exchanges.
The company has been key in helping the Welsh government establish its public service broadband network (PSBA), which provides secure fast internet communications for public bodies, from fire services to doctors' surgeries.
Logicalis's UK managing director, Mark Starkey, said that helped make Wales an "obvious choice" as for its UK service centre.
"Wales offers the depth of skills, professionalism and enthusiasm for innovation that we need to design and deliver high quality IT services to our customers right across the UK," he said, as the new centre was officially opened.
"In the last decade we've collaborated with the Welsh government to create the Lifelong Learning Network, and help build the UK's first public service network, the PSBA Network.
"From this work, it's very clear to us as a business that Wales is in the vanguard of countries exploiting digital technologies in both private and public sectors, and we are excited to be a part of that.
"I can only see our presence growing."