Noah Tyler's midwife Julie Richards is struck off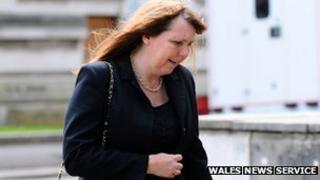 A midwife who oversaw the birth of a baby who died 10 months later has been struck off.
Julie Richards was found guilty of misconduct by a medical disciplinary panel in July.
She treated both baby Noah Tyler and his mother Colleen, from Caerphilly, in 2011 at the University Hospital of Wales, Cardiff.
But Noah was starved of oxygen and suffered brain damage after the midwife failed to notice a high heart rate.
The Nursery and Midwifery Council said her fitness to practise was impaired.
The panel had to consider three cases against Ms Richards, including that of Noah Tyler and his mother, who was named as Patient C during the hearing in Cardiff.
In a second case she was found not to have recognised the significance of raised blood pressure in another patient and did not maintain records.
And in a third case she was found not to have followed correct guidelines when booking a mother-to-be in for an induction.
The panel found all three charges against her proved.
It also found a number of Ms Richards's acts and omissions breached medical codes and practices, including treating patients with kindness, sharing information with patients and gaining patient consent before treatment.
An inquest into the death of Noah found that both the child and his mother had suffered a "gross failure to provide basic medical attention" which contributed to his death.
The Cardiff and Vale University Health Board publicly apologised and said it had reviewed its procedures as a result of the case.