Second £1m winner at Merthyr Tydfil social club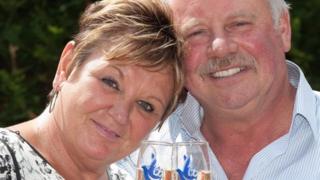 A social club member has became a lottery millionaire - joining a fellow club mate who hit the jackpot two years earlier.
Keith Williams, 54, from Merthyr Tydfil bought a EuroMillions ticket and won £1m on the connected raffle numbers.
He celebrated with fellow-Guest Keen Memorial Social and Bowls Club member Mark Benbow who had won £1m on the Euromillions game in 2011.
Mr Williams was among 100 winners of £1m on a recent National Lottery draw.
He said he did not realise he had won the draw until three days later when he popped into a shop to buy a drink.
He said: "Back in the van, I handed the slip to my mate and when we got back to the office I called Camelot, like the slip advises.
"My mate was jumping around the place - we just couldn't believe the amount I had won.
"I phoned Patricia straight away and she didn't believe me.
"When she came home from work, I was on the laptop re-checking and then she finally realised it was true. She hasn't stopped crying since.
"The news hasn't really sunk in for me yet. I can't believe how lucky Merthyr seems to be."
The couple said they plan to splash out on treats for their 29-year-old son James and their grandson and will move from their three-bedroom terrace home.
"We do like our holidays, so will possibly spend some of our winnings on travel," Mr Williams said.
"A bit more space at home would be nice too, but we wouldn't want to move very far as we've lived here for over 30 years.
"At the moment I plan on carrying on working too as I've been enjoying working more locally than I have done in the past."
Mr Williams said as soon as he knew he had won he contacted fellow-club member Mark Benbow, who had won a £1m prize in the EuroMillions Millionaire Raffle in June 2011.
Railway contractor Mr Williams said: "Mark was a great help.
"He was really pleased for me and it was great to speak to someone who knows exactly how it feels, although my news hasn't sunk in yet."