BBC Wales' Cardiff headquarters up for sale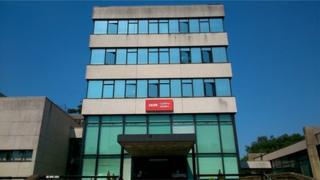 BBC Wales has announced its Cardiff headquarters is up for sale as part of its plans to relocate to a new purpose-built broadcast centre elsewhere in the Welsh capital by 2018.
The BBC said it was looking at five or six sites in the city as a possible new location for its operations.
It follows 47 years at Llandaff.
A preferred site is expected to be selected by next spring when the final plans will need approval by the BBC executive and the BBC Trust.
"We believe these exciting proposals could significantly strengthen BBC Cymru Wales' role as the national broadcaster for Wales whilst also opening up new and exciting opportunities for the wider creative and media sector in Wales," said managing director of BBC Operations and Finance, Anne Bulford.
"The ageing infrastructure at Llandaff is clearly reaching the end of the road - and it is time to look to the future."
BBC Cymru Wales currently occupies two sites in Llandaff - Broadcasting House and Ty Oldfield opposite.
It is home to BBC Wales' flagship TV news programmes, Wales Today and Newyddion, and also to BBC Radio Wales and Radio Cymru, the BBC Wales websites and BBC Wales Sport.
The intention is to sell both Llandaff sites, though initially, only Broadcasting House will be put on the market in the autumn.
The BBC has been looking at its property options in Cardiff since an initial feasibility study was approved in 2011 and will now work with property developers to find a site that offers approximately 140,000 square feet of office and studio space.
The decision to seek a new HQ follows in-depth discussions over refurbishing the Llandaff site or moving into an existing property.
Director of BBC Cymru Wales Rhodri Talfan Davies welcomed the proposed move.
"This is excellent news and provides the opportunity to develop a new broadcast centre that can act as a real catalyst for the whole creative sector in Wales," he said.
"We will now work with our property team and strategic partners to identify our preferred site and to prepare a detailed business plan that provides the best possible value-for-money for BBC licence fee payers."
The BBC is also in detailed discussions with Welsh language broadcaster S4C about the possibility of collaborating at the new centre.
Since April most of S4C's funding has come from the BBC licence fee, though it remains operationally and editorially independent.
S4C's Director of Communications, Marketing and Partnerships Garffild Lloyd Lewis said: "Currently S4C is carrying out a feasibility study into the possibility of moving some elements of our work to other parts of Wales.
"Our discussions with BBC Cymru Wales form part of the same considerations, and we look forward to continuing to discuss in detail with them."
The proposed new broadcast centre has also been welcomed by some independent production companies.
Huw Eurig Davies, chief executive of Cardiff-based Boom Pictures, said: "This is welcome news for the creative industries in Wales.
"The move towards a state of the art broadcast centre in the capital, served by the very latest technology, will undoubtedly raise further the profile of the Welsh media sector across the UK.
"We hope this also brings related benefit to the independent production and media companies.
"There is a significant opportunity here for closer co-operation and partnerships with the BBC and others."
The search for a new headquarters follows developments in recent years which has seen other parts of BBC Wales move into Cardiff Bay.
Drama productions moved into the new Roath Lock studios at Porth Teigr in 2011. It is now home to Doctor Who, Casualty, Welsh language soap - Pobol y Cwm, and the children's series - Wizards vs Aliens.
The BBC National Orchestra of Wales moved out of Llandaff in 2009, when it took up its new home at Hoddinott Hall in the Wales Millennium Centre.
Economy Minister Edwina Hart gave her support to the planned relocation.
"Our creative industries sector is one of the fastest-growing and most dynamic areas of the Welsh economy," she said.
"The BBC's plan to move its Welsh headquarters to a new purpose-built broadcast centre in Cardiff would be a major multi-million pound reinvestment in the Welsh economy that shows the BBC's long-term commitment to Wales and continued confidence in the creative and technical skills on offer here."
Cardiff Council said the planned relocation was great news as it looked to rebuild momentum in the city's economy.
"The relocation will undoubtedly help to cement the BBC's position as a cornerstone of the city's business community," said Councillor Russell Goodway, cabinet member for finance and economic development.
"Over the coming months Cardiff Council will continue to work alongside BBC Cymru Wales to deliver the next critical phases of this project and over the longer term to ensure the continuing vitality of Cardiff's creative economy."