General Dynamics secure 150 jobs in Oakdale in £45m MoD deal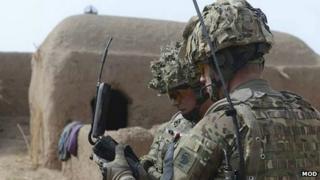 A defence firm in the south Wales valleys has been awarded a share of a £45m Ministry of Defence contract, which will help secure 150 jobs.
General Dynamics UK, based in Oakldale, Caerphilly county, will maintain the Bowman radio for the armed forces.
Bowman is a secure voice and data system to allow soldiers to communicate with colleagues on the ground, at sea or in the air.
A further 150 jobs are being secured at plants in England.
The suppliers which are also part of the deal include Wincanton in Bicester, Oxfordshire; Excelis in Basingstoke, Hampshire; DRS in Farnham, Surrey; Cablescan in Brough, East Riding of Yorkshire and AWE Electronics in Staffordshire.
Defence Minister Philip Dunne said: "General Dynamics have a proven record of delivering high quality support services to our armed forces."