Bruce Springsteen fans queue for days and spend thousands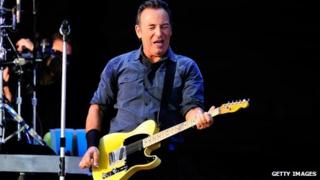 Devoted Bruce Springsteen fans who have queued for days outside the Millennium Stadium have spent thousands of pounds to see their favourite rocker again - and again.
A crowd of 29,000 is expected to see The Boss and his E Street Band in Cardiff on Tuesday.
Among them is Tony Tower who has spent at least £1,300 on tickets for five shows on the tour.
Meanwhile, Cardiff council has announced a number of road closures.
Mr Tower, from Warrington in Cheshire, was first in the queue five days ago.
"It's all about getting under the mic - it's better to be in the pit than out of it," Mr Tower said.
"It's the heart of the concert."
Each of those in line for the pit are given a number and roll-calls are carried out every few hours to check everyone is still in the queue.
After admitting to spending more than £1,300 to see Springsteen at a string of shows, Mr Tower said: "It's not about the cost - it's about the experience. My wife tells me I can afford it."
After the Cardiff concert, Mr Tower and his wife Lynda will leave for Springsteen's next show in Leeds on Wednesday.
Retired police officer Dewi Jones, from Porthcawl, who has also been in the queue with his 15-year-old daughter Mali, said: "The shows are all different - and my daughter was on stage with him in Cork."
The gates open at 17:00 BST and the concert ends at 22:30 BST.
The devotion to the singer has even led to a new documentary, Springsteen and I, telling fans' stories through their own videos.
Special screenings were held at cinemas in Cardiff on Monday night.
Cardiff council has advised fans to travel by public transport, with a number of road closures on a normal working day in the city centre:
From 17:00 BST St Mary Street, Caroline Street, Wood Street, Central Square and Havelock Street will be closed entirely.
Sections of Westgate Street, Quay Street, Guildhall Place and Golate, Scott Road and Park Street will be closed from 17:00 BST.
From 17:00 BST access to Wood Street from its junction with Clare Road to its junction with Wood Street will be shut except for buses, residents and traders.
The route to the front of Central Railway Station, Station Approach in Central Square from its junction with Wood Street, will be closed from 17:00-01:00 BST, with access for buses to the bus station being maintained.
The Butetown Tunnel eastbound will be closed from 20:00 BST and the westbound tunnel will shut at 00:30 BST on Wednesday for three hours.