Phillip Saunders murder: Michael O'Brien seeks judicial review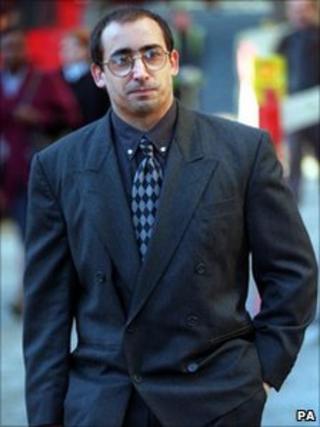 A man wrongly convicted of murder in 1988 says he has permission to seek a judicial review of a decision not to charge witnesses over alleged perjury.
Michael O'Brien and two other men spent 11 years in jail after they were wrongly found guilty of killing Cardiff newsagent Phillip Saunders, 52.
In 2011, police questioned witnesses but the Crown Prosecution Service (CPS) decided not to charge them.
Mr O'Brien's solicitor says the High Court gave permission to seek a review.
Known as the one of the Cardiff Newsagent Three, Mr O'Brien spent 11 years in prison and was cleared on appeal in 1999 along with Darren Hall and Ellis Sherwood.
A 45-year-old man and 46-year-old woman, from Cardiff, were arrested, questioned and released on bail in December 2010 as part of inquiries into alleged perjury and perversion of the course of justice by witnesses.
Two other men, aged 40 and 41, and a 40-year-old woman were also questioned by officers.
However, in 2011, South Wales Police said the CPS had found there was "insufficient evidence" to charge anyone in relation to the allegations and that no further action would be taken.
Mr O'Brien's solicitor, Nogah Ofer, said permission to seek a review had been granted, but said it would be many months before a hearing.
The High Court confirmed a decision on the application was made on Tuesday.
Mr Saunders died five days after being attacked and robbed close to his home in Canton, Cardiff in October 1987.
He had returned home in his van after working at his newsagent kiosk at Cardiff bus station.