Ballet dancer Jack Widdowson's attacker jailed for 13 years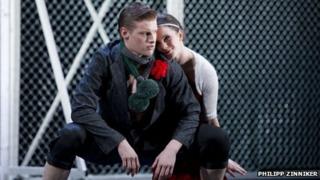 A man who attacked a ballet dancer, broke his neck and left him lying in the street has been jailed for 13 years.
Jack Widdowson, 19, from Somerset, was assaulted by Mohammed Ali Mohamoed, 27, on a disused canal towpath in Cardiff.
Mohamoed, of Splott, Cardiff, was found guilty at the city's crown court of causing grievous bodily harm with intent but cleared of attempted murder.
Eight months later Mr Widdowson was able to dance again.
His family called it a "miracle" recovery.
Mr Widdowson, an apprentice dancer at the Bern Ballet Company in Switzerland, had performed two days before the attack on 5 November 2011.
His mobile phone was stolen and he was left for dead on the outskirts of the city centre near East Tyndall Street at 00:45.
He had been visiting his brother who was studying at Cardiff University.
Mohamoed admitted stealing his phone at the trial at Cardiff Crown Court but claimed someone else must have hurt him.
Prosecutor Michael Mather-Lees QC told Mohamoed: "You broke his neck, then you lied to police because you realised you had committed a dreadful offence."
After the attack, it was feared Mr Widdowson would be paralysed.
The dancer, who is due to perform at the Glastonbury Festival this weekend, told BBC Wales that ballet was his "passion" and the attack made him more determined than ever to succeed.
His father Dr Julian Widdowson said his "incredible flexibility" may have saved his life and aided his "miracle" recovery.
Mr Widdowson's rehabilitation treatments included hydrotherapy and physiotherapy sessions which he described as "long and difficult".
Judge Justice Wyn Williams sentenced Mohamoed to 13 years and ordered he be deported after serving his sentence.
The judge told him: "You left him lying in the street which was callous in the extreme. You are a dangerous offender."
Mr Widdowson's parents, who have since set up a charity called the Dance Again Foundation, praised their son.
They said: "Jack has made an amazing recovery from a horrific injury and we would like to thank the many people who have helped to achieve that.
"He has been performing for some time now and has already performed publicly on a number of occasions.
"We and he are just delighted that he has been able to resume his career as a dancer despite what happened to him."
They said their son's injuries and the problems he suffered prompted them to set up the charity which helps other injured dancers access the right support and treatment.
They said: "We can now put this behind us and we're looking forward to continuing to support Jack and all our children in their careers."
After sentencing, Det Con Mike Owens, from South Wales Police, said: "Jack Widdowson had been enjoying a night out with family and friends when he was subjected to a shocking level of violence - the level which we rarely see in Cardiff.
"Amazingly Jack, who is such a talented young man, has made a full recovery and we are delighted that he is back dancing again.
"Today's decision will hopefully allow Jack and his family to finally put this incident behind them."