Treorchy cat loses eye after airgun attack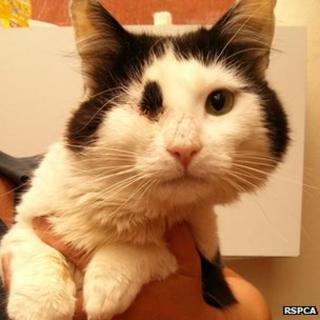 A pet cat in the Rhondda has had its left eye removed after it was shot in its mouth and head with an air gun.
The five-year-old black and white tomcat had been shot twice in its mouth and left eye.
The RSPCA is appealing for information about the attack at Miskin Street, Treorchy on Saturday 15 June.
RSPCA inspector Gemma Black said air weapon shootings of pets are becoming increasingly common.
"This was a very cruel and callous act, resulting in a debilitating injury to a defenceless creature," she said.
"Air weapon shootings cause a great deal of suffering to the animals involved and much distress to their owners.
"We would urge anyone with information to come forward and help us with our enquiries."
The RSPCA asked for anyone with information about the incident to contact the charity's cruelty and information line on 0300 1234 999.