Indoor climbing title for Emily Phillips, 10, of Cardiff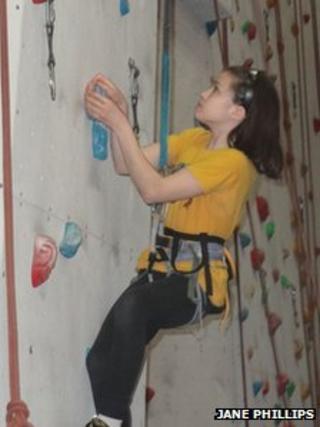 A 10-year-old girl born with a hole in her heart has become an indoor climbing champion.
Emily Phillips, from Cyncoed, Cardiff, beat 32 others from across the UK at the British Climbing Championships in Edinburgh.
Emily, who started climbing at the age of five, trains for more than 10 hours a week.
Her mother Jane says Emily wants to keep climbing until she is world champion.
She took the title in the nine-11 age group and her mother said: "We're immensely proud of her. Right from the beginning she seemed to have that little bit extra."
Emily started climbing at Boulders Indoor Climbing in Cardiff and began competing last year.
Mrs Phillips said: "We were driving past Boulders, which had just opened, and we went in on the off chance and Emily really enjoyed it. So she joined the kids' club and just loved it and she gets a real buzz out of it.
"My husband and I don't climb, and I'm actually terrified of heights, but we've always encouraged her to do lots of sport.
"Emily was born with a hole in her heart but sport has made her heart stronger and now she's got a normal heart of a child her age."
Emily increases her stamina and strength with two sessions of athletics and one session of gymnastics.
Mrs Phillips, who runs playgroups in Cardiff, said Emily was presented with a trophy - and a 40m rope.
"To anyone else that would be odd, but not Emily," Mrs Phillips said.
Emily said: "When I get to the top of a difficult climb it makes me feel happy, like the same feeling that I have after eating a hash brown."
She receives specialised coaching from the climbing centre and said: "I climb because each route is different and gives me new challenges."
Mrs Phillips said: "She wants to keep doing it until she's the best in the world - she's got very high aspirations."
She added: "I think she will continue with it into her teens. It's very easy for teenagers to say they don't want to do something anymore - but this is something Emily loves."
Nick Colton, from the British Mountaineering Council, said: "Emily has done utterly amazingly. Because she's been identified as a winner she will be eligible for national academy coaching because she shows talent."
Mr Colton explained the surge in popularity of climbing in recent years.
He said: "Young kids in this country are really pushing the standard. It's also fun and it's something the whole family can do together. It's also a sport that you can do inside or outside."