Newport Old Town Dock £39m development plan unveiled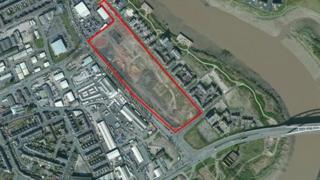 Plans to breathe new life into the Old Town Dock area of Newport have been unveiled.
The £39m development would include new retail, leisure and office space as well as a health centre, houses and a 10-storey tower building.
Developer Sennybridge will submit the scheme for planning permission in the autumn.
Newport City councillor John Richards said the plan represented a "positive step".
More than £200m has already been spent on the 45-acre (18-hectare) site near the city centre over the past eight years.
Urban regeneration company Newport Unlimited commissioned initial infrastructure and landscaping work on a part of the site early last year before a developer was chosen to put a plan forward.
Newport Unlimited's head of regeneration Hamish Munro said Sennybridge's proposals met all the requirements of the brief.
"It also provides a strong vision for how the scheme could be integrated with the existing neighbourhood and the wider city," he added.
As part of the bid the developer will also commit to funding a "community interest group" which will remain in place after the scheme is built.
The not-for-profit organisation would provide funding and support for social enterprises and training for people living and working within the area.
A transport scheme will include a "mini fleet" of electric cars for shared use by residents.
Mike Joyce from developers Sennybridge said the proposals had been well received.
"Old Town Dock has become an important part of the wider regeneration of Newport with some high quality development and public spaces created in the last few years," he said.
"It was important for us that the vision for this sustainable suburb sat comfortably alongside these areas but also had its own identity and sense of place."
Councillor John Richards, the cabinet member for regeneration and development on Newport City Council, said the planned development represented a "positive step for this part of the city".
"These are exciting plans," he said.
The dock was built in 1842 and handled coal from the Brecon and Monmouthshire Canal, shipping it around the world.
If planning permission is granted, the first phase of 45 apartments along with two and three-bedroom houses should be ready to move into by early 2015.
It is anticipated that the full scheme will take six years to complete.