Cracking Ideas: Space suit lands Amelia Regulski award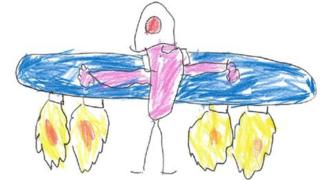 A space suit with a Wallace and Gromit-style on/off button for the helmet has landed a four-year-old girl an award in a national design competition.
Amelia Regulski, of Caerphilly, put rocket boosters in her "supersonic space suit," one of over 4,000 entries in the Cracking Ideas contest.
She won the 4-7 years category in the competition aimed at encouraging innovation among schoolchildren.
Her prize includes a Wallace and Gromit book signed by animator Nick Park.
The competition, part of the Intellectual Property Office's campaign, asked for a space-related concept.
Judges said Amelia's flying space suit "covered both style and practicality".
Her father Dean Regulski said: "She loves drawing people so the idea of a space suit is more appealing for her than a space ship."
He added that Amelia, a reception pupil at Plas-y-Felin Primary School, was "over the moon that she's the youngest in the category".
The other winners were Sydney Davis from Bristol, in the age 8-11 category, for her "IBIB for brilliance in ballet, on earth and in space featuring a rocket twist tutu with miniature swivelling rockets," and in the 12-16 category, Dom Aly and Eddy Backhouse, from Bolton, who invented the "WG1GYRO to propel Wallace and Gromit into space".
The campaign is headed by Wallace and Gromit. Each category winner was presented with a trophy created by Nick Park's Aardman Animation studio.