Cardiff Bay to host Welsh capital's first summer beach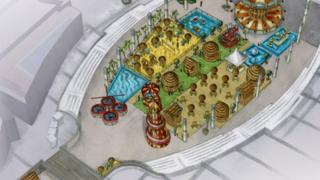 If you are in the Welsh capital this summer you could soak up the sun - if there is any, of course - on the city's first urban beach in Cardiff Bay.
It will be built with 300 tonnes of sand in Roald Dahl Plass for the school summer holidays.
Beachgoers will be able to relax on deck chairs under giant parasols, there will be a sand pit and shallow water play area, and music and entertainment.
London, Paris, and Liverpool are among other cities with similar beaches.
For more energetic types there will also be beach soccer and volleyball.
The privately-financed beach will stay open from 27 July until 1 September.
Work on building it will begin after the Cardiff International Food and Drink Festival, which runs from 12 to 14 July.
The beach will form part of the annual Cardiff festival.
Huw Thomas, the cabinet member for sport, culture and leisure, said: "It's important that new ideas are developed for the Cardiff Festival to keep it fresh and interesting."