Capt Robert Scott: 100 years since Terra Nova's Cardiff return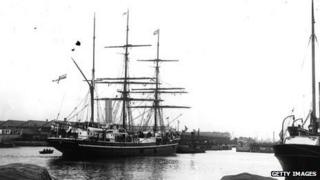 A ceremony marking the return of a ship that carried Captain Robert Scott on his doomed expedition to the Antarctic a century ago is being held in Cardiff.
Scott and his party set off from the city aboard the Terra Nova in 1910 with the aim of becoming the first expedition to reach the South Pole.
But he was beaten to it by a Norwegian team led by Roald Amundsen.
Friday's ceremony follows the discovery of film footage of the Terra Nova's return to Cardiff Docks.
The event in Cardiff Bay at 10:30 BST will see the pleasure boat Daffodil re-tracing the same course the Terra Nova made into harbour as she berthed.
On board will be John Evans, grandson of Petty Officer Edgar Evans, the first Welshman to reach the South Pole who perished with Scott and the team on their return journey from the pole.
Carrying a replica of Captain Scott's personal sledge flag, the party will make its way to the Royal Hotel Cardiff.
The hotel hosted the banquet enjoyed by Captain Scott and his men before they sailed to the Antarctic in 1910.
On 16 June 1913 a dinner was held at the Royal Hotel in memory of Scott. On Sunday the Captain Scott Society will hold its annual dinner at the hotel, this year entitled The Return Centenary Dinner.
The original footage of Terra Nova's return was discovered by the Royal Hotel in 2010 when researching for its own 100th anniversary dinner.
The hotel's manager Jon Swingler said: "The short film clip was found on British Pathé News website, but it simply said that the port was unknown.
"We recognised the setting and showed it to Michael Tarver, author of The SS Terra Nova (1884-1943) and he confirmed that it was Cardiff and even named the people featured. Today British Pathé News correctly credits Cardiff as the port."
The wreck of the SS Terra Nova discovered off Greenland last year by a team from a US research company.
The ship had a life after Scott's polar trek, sinking off Greenland's south coast in 1943.