Microlight aircraft stolen at Blackwood, say Gwent Police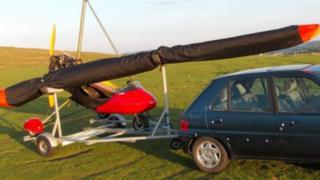 A microlight aircraft and trailer taken by thieves from a car park in Caerphilly county was probably stolen to order, according to an expert.
Gwent Police are appealing for help to trace the aircraft after the theft at Albany Road, Blackwood, on Sunday.
Instructor Keith Roberts said engines which cost up to £12,000 are sometimes stolen and shipped overseas.
He said the wings and components are marked and registered meaning they could not be resold or used in the UK.
"They are easily traceable in this country," said Mr Roberts from Caernarfon-based New Heights Microlight School.
He said the community of microlight users in the UK was small and that the aircraft were registered with the Civil Aviation Authority meaning parts were easily identified and likely to be stolen to order and shipped into Europe.
Gwent Police say the aircraft was stolen in Blackwood between 20:30 BST on Sunday and 10:00 BST on Monday.
Witnesses are asked to call police on 101 or Crimestoppers on 0800 555 111 quoting 395 03/06/13.