'Stormy' Lovegrove: Naval send-off for Arctic hero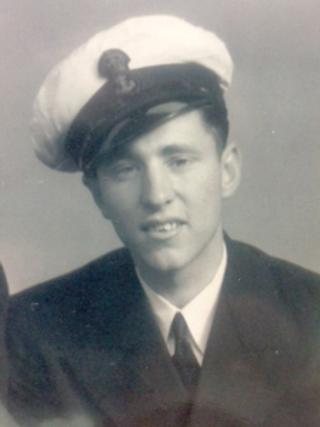 The funeral has taken place of a veteran of the World War II Arctic convoys who died just weeks before he was to receive a long-awaited medal.
Herbert William Lovegrove, known as Stormy, made nine trips on the route called the "worst journey in the world" by Winston Churchill.
He had been due to receive the medal from Prince Michael of Kent in August but died in May, aged 91, after a fall.
The funeral in Penarth, Vale of Glamorgan, included full naval honours.
In addition to the Arctic convoys, Mr Lovegrove's service throughout the war included the D-Day landings in Normandy and a spell in the Far East where his ship survived a kamikaze attack.
He was awarded the British Empire Medal for his years of service but, like all Arctic convoy veterans, was denied the chance to receive the Ushakov Medal from the Russian government.
The Arctic Star medal was created this year after veterans of the convoys felt an Arctic badge issued in 2005 did not go far enough.
His widow, Mary, will accept the medal at a service in August.
Mr Lovegrove, from Penarth, served on HMS Bermuda and was based at HMS Cambria, near Cardiff.
He was member of the naval reserve until the age of 85 and was dubbed "the oldest man in the British navy" for his long association with the service.
His full naval send-off on Friday was attended by the former Lord Lieutenant of South Glamorgan, Capt Sir Norman Lloyd-Edwards.
It was followed by a reception at HMS Cambria.
His son, Darren, said: "He was called Stormy because when he on the Bermuda there was a bunk nobody would sleep on because everybody who slept there died.
"My dad was never superstitious and he went and plonked himself on that bunk and because the last person who slept and died on the bunk was called Stormy they gave my dad the same nickname.
"He was a fighter."
The family have repeated calls for the Arctic convoy veterans to receive their medals as soon as possible.
Mr Lovegrove said for his father to have lived long enough to have received his medal from Prince Michael of Kent "would have been a wonderful thing".
He said: "He found out he would receive the medal whilst he was in hospital waiting for a hip operation."
The Arctic convoys brought crucial supplies and weapons to Russia to help keep the Soviet Union in the war by fighting off Hitler's armies.
The icy voyages claimed over 3,000 lives as the supply ships were under constant threat of attack by German U-boats and aircraft in severe cold, storms, and ice floes.
The voyages began in 1941 and, by May 1945, German attacks on the Arctic route had cost the Allies 104 merchant ships and 16 military vessels.