Cardiff City football fans given vote on shorts colour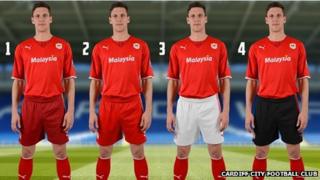 Season ticket holders at newly promoted Cardiff City are being given a say on the colour of shorts for the Premier League kit.
It follows a backlash on social media when the club unveiled designs on Wednesday.
The home shirt remains red, and the shorts were shown as an even darker shade of red.
Now fans are being asked to vote on colours for the shorts - either white, black, or two other tones of red.
"The decision had been made as a means to help visually distinguish the club in the Premier League, while continuing the theme of our successful 2012/13 Championship winning season," said the club in a statement.
"The resulting response carried across social media quickly indicated that a large number of supporters were unhappy with the choice of colour concerning the shorts.
'Majority view'
"For that we apologise."
Fans on Cardiff City online discussion forums reacted with anger when the new designs were unveiled.
"Looks like the dye has run out of the shirt to match the shorts," wrote one fan.
"Seeing that kit has killed me, I can handle the red but two different colours - that's wrong," said another.
The complaints over the new kit design follow the dispute sparked last year, when the club's Malaysian owner Vincent Tan rebranded Cardiff City - switching the blue shirts of the Bluebirds to red.
Responding to the fans' disquiet over the shade of shorts, the club said it would now give season ticket holders the chance to voice their opinion.
"As a club, we would today like to address this issue by giving all 2013/14 season ticket holders held on our email database a vote on varied shorts options for next season," said the club.
"Although this will not result in every single season ticket holder voting, the size of the email based survey, reaching over 12,000 Cardiff City fans will give a clear indication as to the majority view."
Season ticket supporters have until 14:00 BST on Friday to register their vote via email with the club.
"We will then liaise with Puma to get the shorts put into production as quickly as possible," added the club.