Three bald eagle chicks hatch at Welsh Hawking Centre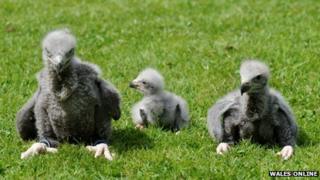 A bird-of-prey centre is claiming to have hatched the first bald eagle chicks in Wales.
Three chicks were born seven days apart from each other at the Welsh Hawking Centre in Barry, Vale of Glamorgan.
Proprietor Griff Griffiths said he had to use glue to seal up part of each egg to ensure the chick inside would live long enough to hatch.
An adult bald eagle - native to North America and the symbol of the USA - has wingspan of more than 2m (6.5ft).
Mr Griffiths said he took possession of the parent birds last autumn after their owner had tried and failed for several years to hatch their chicks.
The chicks were born this month at the centre, which has around 300 birds of prey.
Mr Griffiths said they had to be taken away from the parents straightaway to ensure they lived through the 36-day incubation period.
He added: "An egg needs to lose 15% of its weight over its hatching period. They were losing around 50% so they were going to die within first two weeks of incubation.
"We weighed them every day to work out the weight loss.
"We found out quickly enough. They were losing a vast amount of weight, more than any eggs I have hatched before."
Mr Griffiths said even putting the eggs in a high-humidity incubator was not enough to slow their weight loss sufficiently.
He decided to dot the shells with wood or decorators glue in the hope that would restrict the water loss without also blocking too much oxygen from penetrating the porous eggshell.
He said: "It worked like a dream. We developed a computer program to predict the weight loss."
He said the three chicks were thriving although they were "eating me out of house and home" as they needed up to a quarter of their body weight in fresh meat every day.
Two zoos in Holland have already expressed an interest in buying the chicks, Mr Griffiths said.