Maesteg killing: Stuart Worvell jailed for 12 years for manslaughter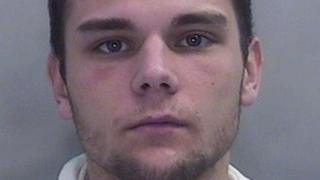 A man who stabbed to death a passer-by who called at his home near Bridgend has been sentenced to 12 years for his manslaughter.
Stuart Worvell, 22, from Maesteg, stabbed Thomas Sutton, 20, nine times after he called at the house thinking there was a party there.
Worvell was cleared of murder and attempting to murder Kyle Harris, 18.
In sentencing, the judge at Cardiff Crown Court said Worvell had shown no remorse.
Mr Justice Wyn Williams KT said: "You stabbed Thomas Sutton nine times causing him to die within a few minutes at most, given the nature of the blows, the number of blows and the injuries caused.
"Moments after stabbing Thomas you stabbed Kyle Harris three times causing him life threatening injuries.
"You committed a significant, serious, unlawful attack on Kyle.
"Nothing leads me to believe you have shown any remorse. Certain aspects of your behaviour in court lead me to the opposite conclusion."
The trial heard Mr Sutton and Mr Harris - who survived the attack - called at Worvell's house after hearing music, but instead of it being a party, it was Worvell playing loud music while having a bath.
Greg Taylor QC, prosecuting, said Mr Sutton had decided to knock the door and "try his luck".
"Thomas kept knocking the door and asking to come in, Worvell didn't want to let him in and things got a bit heated," Mr Taylor said.
The jury heard how Worvell confronted Mr Sutton - known to his friends as Tuskin - on the doorstep of the house on Tonna Road, Maesteg, in June last year.
A fight broke out and ran through the house with Worvell grabbing a 15cm kitchen knife from the cutlery drawer and stabbing Mr Sutton.
Worvell stabbed him in the neck, severing the main artery, and chest.
He also stabbed him twice in the top of the head and five times to the back.
Worvell also stabbed Mr Harris, who was also involved in the fight, before getting dressed and running away from the scene.
After the sentence, Thomas Sutton's family said it marked the end of a "very difficult and painful time".
"No length of sentence for Stuart Worvell will bring Thomas back to us," said a family statement.
"We and his friends will forever carry our memories of Thomas with us, we all miss him so much.
"As a family we would like to thank the people that stopped on Tonna Road that da, and helped Thomas when he lay injured.
"We also want to thank the paramedics and hospital staff at the Princess of Wales Hospital who fought to save Thomas' life.
"Finally we would like to thank South Wales Police and Victim Support for their guidance and assistance throughout this process."
Det Chief Insp Steve Benson-Davidson of South Wales Police's specialist crime investigations team said he hoped the jury's decision had brought family and friends some comfort.
"This was a tragic incident which brought shock and sadness to the community," he added.