Cardiff Airport has 'long-haul flights potential'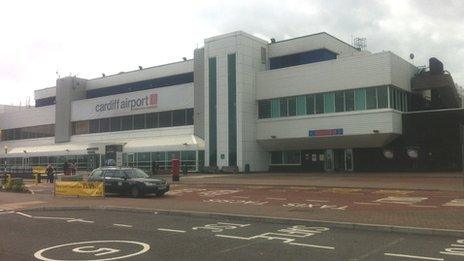 Plans to attract long haul services from Cardiff Airport have been submitted to a commission looking at air capacity in the UK.
The Western Gateway proposals include making better use of the spare capacity at Cardiff to reduce congestion at airports in the south east of England.
It calls for air passenger duty to be reduced for flights from Wales.
The Welsh government-owned airport has seen passengers numbers fall to just below one million to March 2013.
Passenger numbers had hit a peak of two million in 2007.
The airport has also faced competition from its more successful neighbour, Bristol Airport.
The latest proposals put forward by a group of academics and business people come as a one-day conference was held in the city.
The group says that regional airports have a role to play in reducing the pressure on Heathrow and the other more congested airports - with Cardiff offering more than neighbouring Bristol.
Lowering levels of air passenger duty at underused regional airports, such as Cardiff, is the way to do this, says Western Gateway.
It estimates Cardiff Airport existing facilities could handle three million passengers a year.
The group's report says it expects the airport's connections to improve in time with the high speed rail projects bringing more of the UK within a two-hour travel time, including central London.
It said Cardiff would have advantages compared to Bristol Airport - a longer runway and 24-hour operation - potentially giving access to a 4.5m people within a 90-minute travel time.
Martin Evans, of the University of South Wales, said: "Cardiff is very well placed with its infrastructure. It has a runway that is sufficient for long-haul flights, it operates for 24 hours of the day and there are very few people who live in the local area who are afflicted by aircraft noise.
"We feel that the answer to attracting through Cardiff Airport for long haul is to set those rates of air passenger duty lower or even zero.
"This would make Cardiff Airport very attractive both to airlines and to passengers but those powers have to be devolved to the Welsh government if they are to be varied."
The proposals have been put to the Davies Commission, set up to look what future air capacity is needed in the UK.
At the conference on Monday First Minister Carwyn Jones said the airport "plays a crucial role" in Wales' economy.
He said: "While we are aware of some of the short-comings of the airport we are also aware of its many strengths and of its potential, particularly its capability of serving additional capacity which offers a lower cost and deliverable alternative to building new airports or additional runways at already congested, existing airports."
The airport, which was bought from its previous Spanish owners for £52m in March, is already undergoing a £500,000 facelift to promote Welsh culture and heritage.
But the latest passenger figures released in April showed that it saw a 15% slump for the year to March - dipping to just below one million.
Related Internet Links
The BBC is not responsible for the content of external sites.