James Kennedy to receive £3m settlement after Rome crash injuries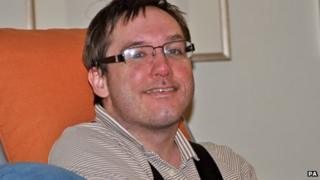 A recruitment consultant who suffered "catastrophic injuries" when he was hit by a car driven by a priest is to get more than £3m in compensation.
Father John Richard Cole, from Merthyr Tydfil, hit James Kennedy with his Peugeot in Rome on 14 January 2006.
The 37-year-old from Gosforth, Newcastle-upon-Tyne, was left brain damaged and in a wheelchair.
The High Court approved terms of settlement with Father Cole's insurers.
Mr Kennedy will receive the lump sum payment plus annual instalments of £210,000 for life under the settlement, Mr Justice Bean was told at hearing in London.
The judge approved the terms of the settlement.
Mr Kennedy was 30 when the incident happened as he crossed on the Corso Vittorio Emmanuele road in Rome, the court was told.
The keen sportsman claimed for loss of earnings and the costs of care and special equipment he will need to make the most of the rest of his life.
His legal team had already secured a judgment in relation to liability for the accident on the basis of 80% of a full valuation of the claim.
Mr Kennedy, formerly an amateur rugby and cricket player, was on holiday in Rome with university friends when he was hit.
In May 2012, an interim payment was made to allow Mr Kennedy, who had played youth rugby for Gosforth, to buy an £885,000 specially adapted home in Gosforth, where he has a team of full-time carers.
His mother Elaine Lee, from Corbridge, Northumberland, said after the hearing she was relieved the settlement had been approved.
"My son was very seriously injured and nothing will ever turn back the clock and give James back his freedom and full independence," she said.
"We will continue to stand by James all the way but he also needs significant and specialist support to help him.
She added: "But this is clearly not a lottery win. James needs these funds to help pay for the care, rehabilitation, therapies and other expenses he needs to incur for the rest of his life and every penny of James' award has been carefully accounted for."
Mr Justice Bean told the court that he wanted to record his admiration for the "love, support and care" Mrs Lee had given to her son.