Measles: Students urged to get MMR after Cardiff University case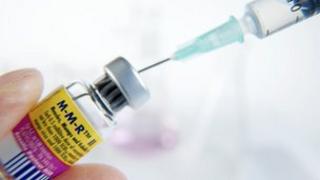 Students are being urged to have the MMR vaccination after a case of measles was confirmed at Cardiff University.
The university said those who were not vaccinated should contact their GP as soon as possible to arrange a jab.
Public Health Wales (PHW) has also warned that an increasing number of students in the city are being diagnosed with mumps.
The number of cases in the Swansea measles epidemic topped 1,000 last week.
The latest figures in the outbreak, which began in November, will be released on Wednesday.
In a letter to students, Cardiff University said: "As the outbreak of measles continues the university has been advised a student studying at Cardiff University has a confirmed diagnosis of measles.
"Additionally, PHW have had increasing numbers of notifications of mumps in the university population.
"It is therefore advisable if you are not vaccinated to contact your GP as soon as possible to arrange vaccination."
The university advised students to check their "immunisation status", and if they had not had two doses of the MMR vaccine then they should contact their GP and make an appointment.
"If you do require MMR vaccination and have been unable to arrange an appointment with your GP it may be possible for you to have a MMR vaccination at Cardiff University health centre," added the letter to students.
"In order to plan and action this support we are seeking to identify the number of students who may wish to have MMR immunisation at the university health centre."
The number of cases in the Swansea measles epidemic rose to 1,039 last week.
PHW said across Wales the total had reached 1,170, and 85 people had been hospitalised.
It added that 33,000 non-routine MMR vaccinations had been given around the country during the outbreak.