Bleddyn King loses web date murder minimum term appeal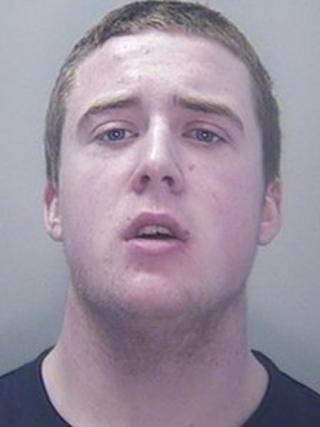 A teenager found covered in the blood of a 64-year-old man he stabbed 72 times has failed to cut his 28-year minimum jail term for the murder.
Bleddyn King, 19, was stopped by police for driving erratically in the car he had just stolen from widower David Evans in Pentyrch, near Cardiff.
He was jailed for life in October last year but the Appeal Court heard him claim the sentence was too long.
The court said the trial judge had made "sufficient allowance" for King's age.
King was described as "evil and dangerous" for the brutal murder of Mr Evans, a retired RAF fireman who was described as a "lost soul" since the death of his wife in 2008.
Mr Evans met King, then 18, on a gay dating website and invited him to his home.
The court heard that King, of Abercynon, was desperate for money after being turned down for 10 bank loans on the day of the killing.
The court heard that after killing the "slightly-built" Mr Evans, King filmed himself on his mobile phone as he repeatedly stamped on his dead victim's face and shouted obscenities.
At the Appeal Court in London King's lawyers argued the tariff - the minimum term he must serve - was too long given his youth at the time.
But dismissing the appeal Lord Justice Treacy said the sentence was "not excessive" given the nature of the "truly dreadful" crime and an adult would have been given a longer tariff.
Sitting with Mr Justice Burnett and Mr Justice Edwards-Stuart, he added: "The judge was satisfied that the appellant had gone to the bungalow with murder in mind.
"The victim had been solicited and murdered in cold blood - an experience enjoyed by this appellant.
"A minimum term of 28 years is in no way out of line, a crime of this nature would have attracted a minimum term well in excess of 30 years for a mature adult.
"It is clear to us that the judge must have made sufficient allowance for the appellant's youth."